Due to CORONA crisis, retail shops in Germany have been facing a temporary nationwide shutdown. In order to stay competitive to the big onliners, independent retailers have been highly reactive launching creative activities and campaigns on Social Media or even opening the own online shop at short notice. We lately started a Social Media initiative that supports the engagement of our independent retail customer accounts by geo-targeted social advertising.
Since March 21, 2020 the public life in Germany is shut down to a limit. Whilst grocery stores, shops for medical care and alike still are allowed to stay open, retail stores offering consumer items which are not necessary at the moment are forced to close their doors initially until April 19, 2020. After the 19th, depending on the federal states (for instance in Bavaria after the 27th) they are gradually allowed to reopen however complying with very restrictive rules.
To survive this mandatory break and still generate revenue, many independent shops got very creative. They are offering special benefits like coupons or entirely new models of "home shopping" where customers can buy via video call/telephone/email and the items bought will be delivered straightly to their home addresses . Many of these independent retailers are even opening their own online shops at short notice.
In order to keep in touch with their customers and push shop-specific initiatives, the retailers primarily use Social Media platforms for their communication and consumer interaction. Above all Instagram has been gaining traffic lately due to the nation- and Europe-wide curfews. #supportyourlocaldealer or #shopnowpaylater rank among the top hashtags next to #workfromhome or #stayhome and, most important of all, #staypositive.
"WE SUPPORT YOU" is the message that we send to our independent customer accounts right now. We offer help to our independent clients in this severe crisis starting a Social Media initiative. With geo-targeted Social Advertising we push the shop-specific activities and campaigns via its own channels on Instagram and Facebook. Geo-targeted as they reach the local consumers and prevent further competition among the independent retailers.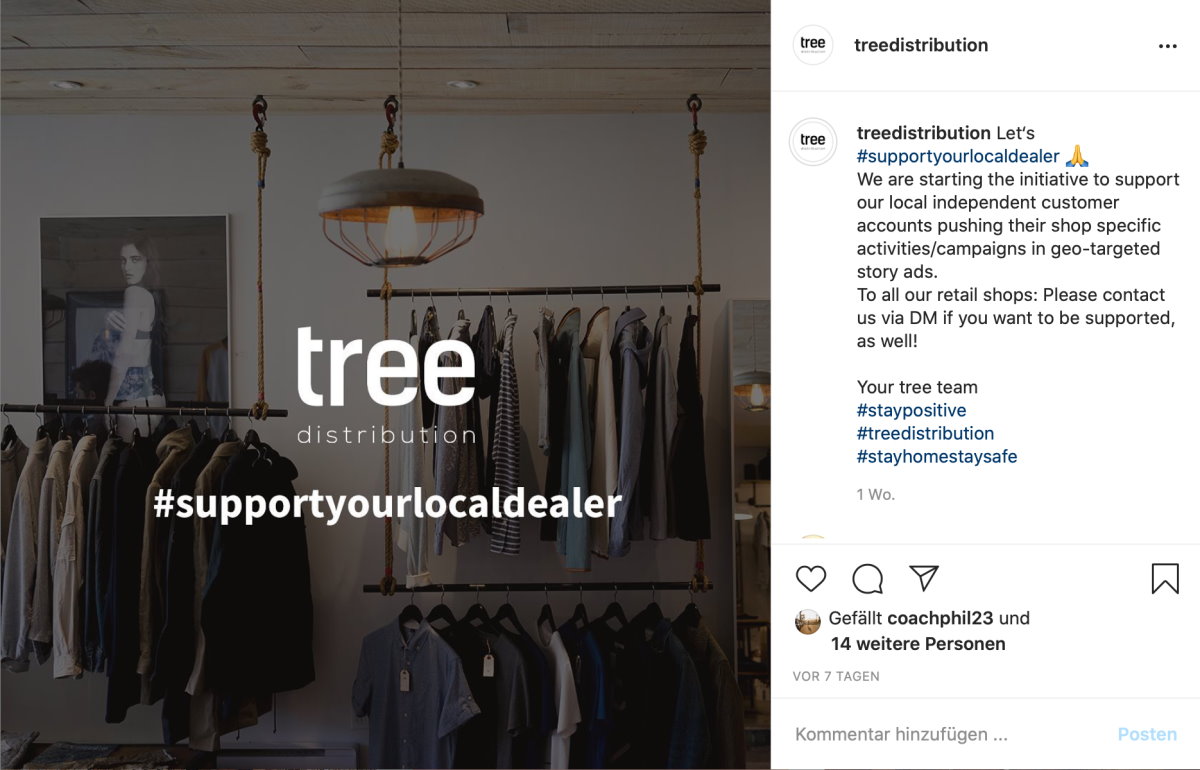 For this initiative we got in contact with our independent accounts sending them a questionnaire to get as many details about the shop specific measures as possible as well es necessary images. Simultaneously, we talked to their B2B partners and press to gain more multipliers. Let's stick together in these hard days and support each other.
Details of each Store activity here.
TX SPORTS | Gewerbepark 8, 91126 Kammerstein | www.tx-sports.com |  @tx_sports – @tx_select
SPORTFABRIK BRUCHSAL | Zollhallenstr. 1,  76646 Bruchsal | www.sport-fabrik.com  | @sportfabrikbruchsal
LAUFSPORT SAUKEL | Kronenstraße 12,  87435 Kempten | www.laufsport-saukel.de | @laufsportsaukel
FASHION4SPORTS | Eiserfelderstr 432a,  57080 Siegen | www.fashion4sports.de | @fashion4sports_
X-WORLD SKATESHOP | An der Schuett 22, 91074 Herzogenaurach | www.x-world-skateshop.com | @xwdskate
ANKLEIDEZIMMERSTORE | Ankleidezimmer Berlin, Simplonstr. 6, 10245 Berlin | Ankleidezimmer Halle, Gr. Ulrichstr. 29, 06108 Halle | www.ankleidezimmer.tv | @ankleidezimmerstore
BAGSTORY HEIDELBERG | Plöck 3, 69117 Heidelberg | www.bagstory.de | @bagstory.heidelberg
LEGER CONCEPT | Carl-Theodor-Str. 11, 68723 Schwetzingen | www.leger-concept.de | @legerconcept
WOHNSTUDIO S | Gartenstraße 21, 97616 Bad Neustadt | www.wohnstudios.com | @wohnstudio_s
SCHANZENOPTIK | Schanzenstraße 28, 20357 Hamburg | www.schanzenoptik.de | @schanzenoptik
EPOXY BOARDER SHOP | Epoxy Deggendorf,  Luitpoldplatz 19, 94469 Deggendorf | Epoxy Passau,  Bahnhofstraße 7, 94032 Passau  | Epoxy Straubing, Theresienplatz 22, 94315 Straubing | www.epoxy-shop.de | @epoxyboardershop