Live the difference
Today we make a virtual stop at the beautiful Lake Constance – let's go to sustainable Konstanz to Elossa!
Elossa' is Finnish and means 'alive'. With this store name, the two store owners Josia and Jonathan Zuber want to convey a very specific attitude towards life. Enthused by the pure and creative power of Scandinavian nature, the two brothers have set themselves the goal of making their own contribution. Their credo is sustainability – and they do so with complete conviction.
Why Scandinavia? The two brothers are globetrotters and have traveled the globe a lot in recent years. We understand all too well that they were inspired by the breathtaking nature of Scandinavia in the naming. During their many trips to faraway countries, the creative minds were able to gather ideas, and they were especially interested in the topic of Sustainable & Fairtrade Fashion and how it is being pushed and marketed worldwide.
We don't just want to talk about sustainability as a vision that might be implemented at some point in the distant future, but to make it a reality today in the form of our fair fashion,' Josia reports.
No sooner said than done! In March 2021, the two open the Elossa store in Constance, despite ongoing Corona constraints. A cozy and stylish minimalist furnished store should be for all customers 'like a park bench in the middle of nature, which invites you to linger and breathe deeply.' At Elossa, everything is sustainable as far as possible. And where there could still be room for improvement, Josia and Jonathan are always striving to find new sustainable ways and have also firmly anchored this exemplary motto in their corporate culture.
True to the ecological approach and their own conviction, Elossa does not have an overabundance of brands, but a deliberately manageable and finely tuned brand portfolio with eco-footprints throughout; first and foremost its own streetwear fashion line Elossa.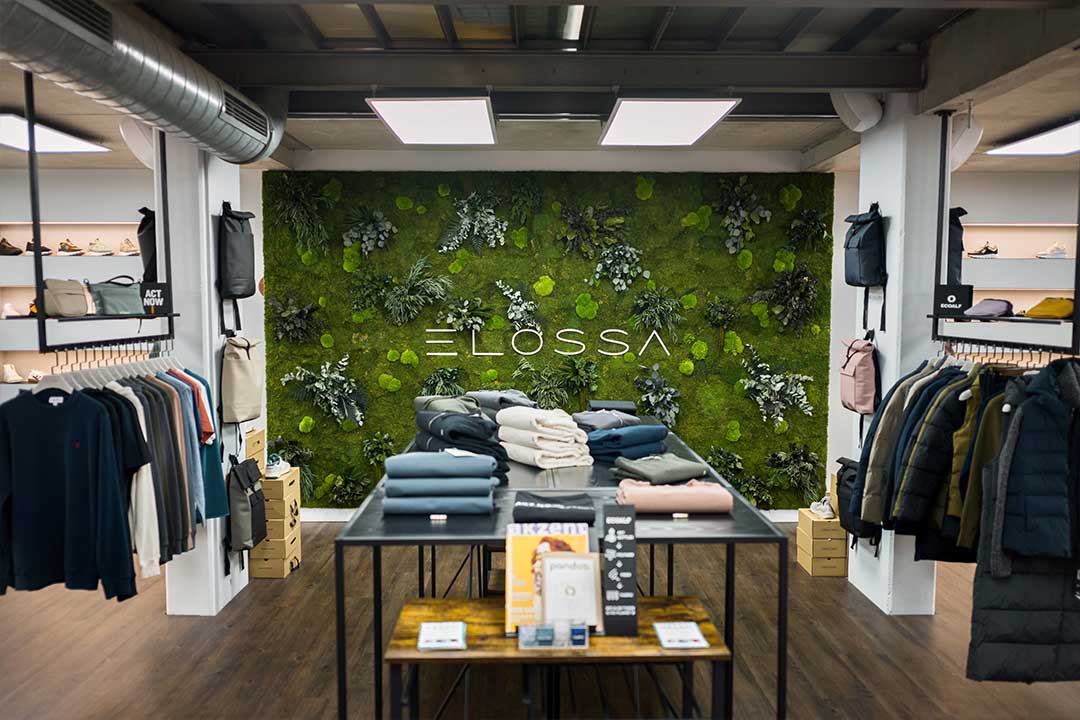 Why clothing?
At the latest since the latest Jenke experiment was broadcast on TV a few days ago, most people should have become aware of how dangerous fast fashion really is. Here the fatal health as well as environmental harmful consequences of our constant consumption rush of as favorable as possible mode were pointed out hard as nails. That in Eastern European countries from poverty our old clothes are not dressed, but in private households (with children and animals in the same room!!) are burned, because this is the cheaper variant to wood or other usual fuels, probably up to now the fewest knew. And don't forget, fast fashion means cheap textiles full of synthetics and toxic chemicals….Elossa has recognized the urgent need in this dangerous trend of fast fashion and discounter goods to become active themselves and not just tomorrow. With their own fashion line, the two brothers have all the reins in their hands and can and want to take 100% full responsibility for fair trade and sustainability. Wherever the two see that it is not yet sustainable enough, they immediately adjust.
Eco-Streetwear at Elossa
In the past, the little word 'eco' had a very specific fashion and lifestyle in mind that was very much frowned upon. Jesus slippers, crochet bags…the list is endless, was rather 'embarrassing' and a no-go for trend-conscious fashion freaks just a few years ago. Today, eco in the fashion industry fortunately goes differently and has established itself as a lifestyle. Less is more – reduction and minimalism characterize the zeitgeist. This contemporary style is reflected in modern streetwear. Fashionable dressing in everyday life? Absolutely! Elossa sees this as an individual opportunity to express one's own taste + character. But fashion should be modern and future-oriented at the same time. This is only possible with responsible production, with high-quality and durable materials. Wherever regionality is possible and ecologically sensible, Jonathan and Josia definitely opt for it. The fashion label Elossa produces as resource-friendly as possible and works according to these 5 criteria:
Production in Portugal/Europe
GOTS certification of products and producers
Continuous development and research
High quality materials and processing
Holistic concept
Elossa, that is sustainability 'Next Level', namely on 2 floors!
Even the hangers at Elossa are made from meadow grass, the shipping bags for online are compostable, the store's electricity provider is environmentally friendly. There are biodegradable shoes made from corn scraps and, of course, backpacks and bags from Ucon Acrobatics made from recycled PET bottles.
At Ucon Acrobatics, sustainable entrepreneurship is also a top priority. For 20 years now, the Berlin-based bag and backpack label has been pursuing the conviction that social inequalities and the destruction of our living space are 'yesterday's news'. Since then, the label has been striving to ensure that this guiding principle is also recognized by the business community and the masses. Minimalism and timeless design classics have existed from the beginning and are the heart of the brand. With this, the Berlin label has set itself the goal of making a difference in the industry.
Ucon Acrobatics, like Elossa, operates responsibly and transparently. Since 2018, the brand has been doing everything it can to produce products with the highest possible recycled content. PET from recycled water bottles has established itself as the main material – this has the advantage that no new yarn based on crude oil has to be created and the polyester yarn is very light and durable – perfect conditions for a versatile daypack as an everyday companion. Here, Ucon Acrobatics cooperates with the company 'Repreve', which stands for transparent processes. Also the laptop compartments are made of upcycled neoprene since 2020. Ucon Acrobatics is working hard to constantly expand the list of sustainable materials. These criteria have convinced not only us, but also the Elossa store.
Elossa is premium, sustainable and fair! The store sells stationary as well as online at elossa.eu. More info and visual insights of course on Insta @elossastore and soon in the tree feed @treedistribution – stay tuned!