Im Schnitt haben wir täglich sechsmal unsere Schlüssel in der Hand, also insgesamt 157.626-mal im Leben. 226 Stunden unseres Lebens verbringen wir mit der Suche nach dem richtigen  Schlüssel. Zeit für Wunderkey!
Der Schlüssel des 21. Jahrhunderts:
Wunderkey verwandelt jeden Schlüsselbund in ein elegantes. Accessoire. Mit einem Dreh ist der richtige Schlüssel ausgeklappt. Kein lästiges Klimpern der Schlüssel. Keine zerrissenen Hosentaschen.
Das Beste oder nichts:
Das Motto bei der Konzeption von Wunderkey. Unserer Meinung nach sollte nämlich ein Produkt, welches man jeden Tag mehrmals in der Hand hat, wirklich perfekt bis ins letzte Detail sein.
Einfacher Zusammenbau:
Der Wunderkey lässt sich in wenigen Sekunden zusammensetzen. Alles was man dafür benötigt sind seine Schlüssel und 1 Cent Stück.
Organisiert:
Wunderkey setzt dem täglichen Schlüsselchaos ein Ende. Durch die feste Anordnung der Schlüssel im Wunderkey, greift man nach einer kurzen Eingewöhnungszeit intuitiv immer nach dem richtigen Schlüssel. Dadurch ist selbst im Dunkeln der richtige Schlüssel mit einer Hand schnell ausgeklappt.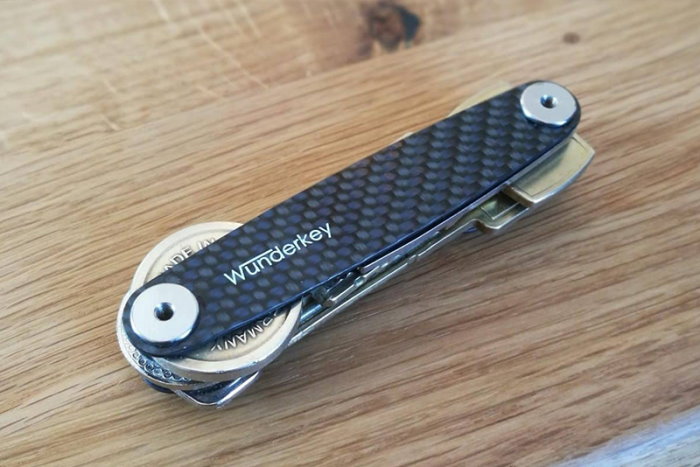 Wunderkey ist aus feinstem Leder ein moderner Klassiker, und hergestellt aus feinstem Edelstahl, eloxiertem Aluminium und handlaminiertem Carbon ein Symbol für die Handwerkskunst Made in Germany.
Welcome to the tree family @wunderkey!